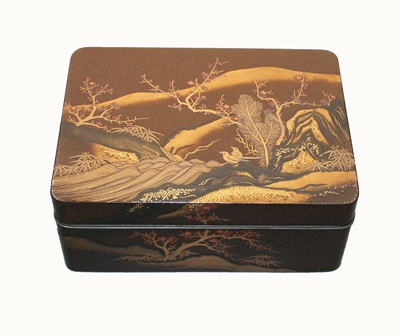 Enlarge & Zoom
【サイズ】 横13.0cm×9.5cm×高さ5.2cm

時代は江戸期頃の品物です。経年による細かなスレなどは見られますが状態は非常に良好です。立体感ある高蒔絵で梅に鶯を繊細かつ豪華に描いております。外装、内装ともに実に美しい金銀梨地蒔絵が施されております。また縁は銀覆輪で金具に至るまで細かな気配りが見られます。

The rounded rectangular lacquered box and cover decorated in gold takamaki-e (gold gilt) and details in silver inlay,
with a Japanese bush warbler in a blossoming ume tree. Both exterior and interior are beautifully decorated
on a nashi-ji ground (gold or silver flakes sprinkled onto the surface (excluding the design).
Silver inlayed rims, very fine detail.
In very good condition with tiny chip on the ume flowers.